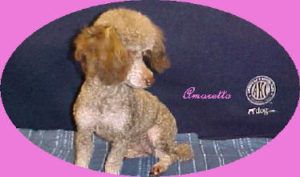 Sent: Friday, April 02, 2010 8:53 PM
To: [email protected]
Subject: We made it home!
Hi Paula, We made it back home to Austin safe and sound (through monsoon rains!). The trip was uneventful – Amaretto traveled like a champ and enjoyed the roadside potty stops too! She is getting along wonderfully and seems to be relaxed around us (she is lounging next to me on the couch as I type this) and loves her new "big brother", Romo. She has blended in with the "courtyard" dogs and loves everyone she meets-and there has been a steady stream of neighbors coming by to see her! Thanks again for allowing us to coming into your family with the joy of adopting Amaretto! Take care and God bless! Kim and Justin
Amaretto is blending in really well – the weekend after we got her home, it was the Mighty Texas Dog Walk and she was very excited to participate. This was Romo's 4 th year of participation but you would never that she was a rookie! She walked almost all of the 3 miles!!! She is loving her "brother" and loves to pick at him – he is much more mellow than our new little spit fire! She runs circles around him (literally) in the mornings!!! She isn't fond of baths but is willing to sit still for grooming so that pays off in the long run! She has several "ni-nights" or beds around the house and when she's tired, she will sneak off to get in her bed but any other time, she can be found lounging on the couch, picking on her brother or hiding toys! We just bought her a nylabone to help with her teeth, which she seems to be more interested in burying under the couch cushions than actually chewing on it – very funny. We call her Ferdinand the Bull because she scratches the floor with her back legs after she uses the bathroom or when she wants Romo to play. Her bark is so quiet compared to Romo's that my daughter calls her Cujo. She is very loved and spoiled obviously! I am including a few pictures for you as well!
Take care and I hope that you and George's health is well!
Kim and Justin