Poodle Colors
There were no Solid color Poodles when the breed was originally formed in Europe and this diversity of color still exists in our Poodle of today. Over the years, most show breeders "culled" these original colors, as they wanted the Poodle to only be in Solid colors. This has not removed the "original" colors from the Poodle gene pool, but has only reduced it's diversity. The original colors of Black/Tan Phantom and Black/White Harlekin Parti's are still being shown in Europe today in Confirmation Competition.
We have been breeding Poodle puppies in Texas for many years and over the years, these "original" Poodle colors have been born to our Solid color stock. We began breeding Poodles in all colors in Tiny Toy, Toy and Miniature Poodle sizes for many years and have found them to be much more free of disease and genetic problems than most Solid color line bred Poodles being bred today. We have also been able to reproduce these colors in whole litters, proving their color dominance is not a "One Time Accident".
The colors that we produce are; Parti (Harlequin), Phantom, Brindle, Sable, True Tri-Color, and solid color Poodles. I am providing you with examples of these colors from my own kennel on this page.   These pictures are not intended for general use, but only to show the true diversity of the Poodle that began many, many years ago and are still being produced today.
Paula Collins, Owner

AKC Poodle Color Chart


Pricing, Shipping, Health Guarantee

Tango's Haus almost always has poodles for sale, but since we do not breed our females on every heat sometimes we do not have the poodles for sale in the size or color that you are wanting. We can however, give you a very good idea of when we will have the poodle puppies in the color and size that you want. You can put up a deposit for a future puppy, which is refundable if we do not produce the color and size of puppy you are requesting.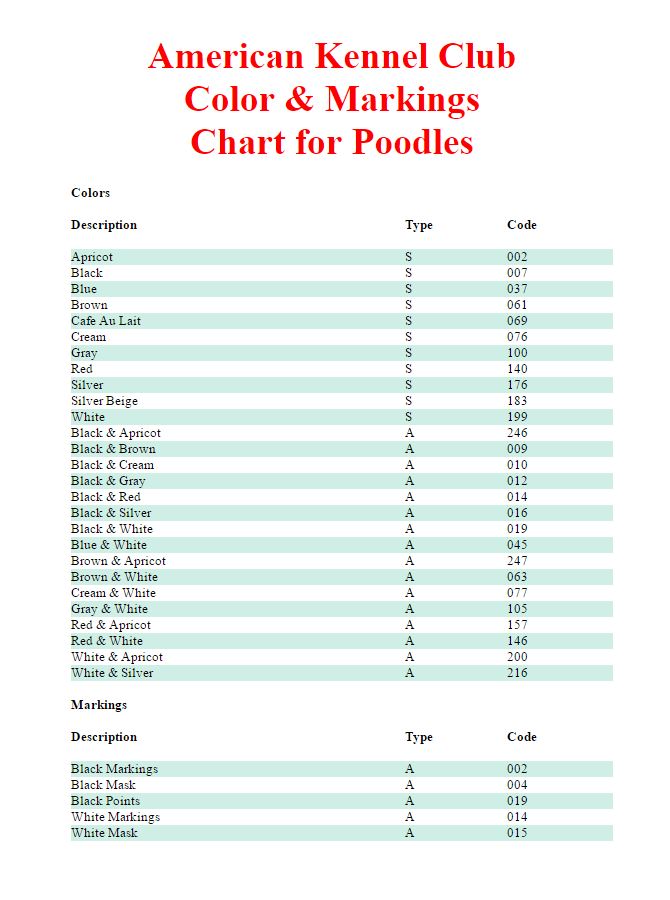 S- Standard Color
A- Alternate Color
Pricing, Shipping Costs, and Health Guarantee
Tango's Haus Kennels, which is located about 20 miles East of Dallas, Texas, just off of Interstate 20, is in a wonderful rural setting among many trees and lush pasture land. We are very proud of our Poodles that we have raised for so many years. We breed  Miniature and Moyen Poodles in all colors. We have no favorite color, but love them all equally. We are very strict in following the AKC guidelines for structure and a good attitude is a MUST HAVE in our Poodle babies.
We welcome all to our kennels and if you are too far away to come to visit, then we make sure that you are comfortable in your choice BEFORE you are asked to put up a deposit on a puppy. If you decide to put up a deposit on a puppy that is already born, then that deposit is non-refundable if you later decide to not purchase that puppy, but you can apply that same deposit towards a different puppy at a later date from a different litter or a different puppy in the same litter. If you put up a deposit on a litter that has not been born yet, the deposit is refundable if I do not produce the sex or color that you have decided on or you can decide to leave the deposit for a future litter. This is the only way that a deposit is refundable.
Final payment is due when your puppy reaches 7 weeks of age unless prior arrangements are made.  All puppies are scheduled to be picked up at 8 weeks of age, unless it is a very small puppy or it is a holiday and prior arrangements have been made. The amount of time that I will hold a puppy for any individual is governed simply by the amount of space that I have available in my kennel and is not set by any other standard. If you fail to fulfill any of these requirements within the alloted time limit then the money that you have put up on the puppy will be considered forfeited, the sale will be considered null and void and the puppy will be put back on my website for adoption.  If we have pre-arranged a late pick-up date for your puppy, then you will also have to pay a slight pre-arranged fee for that service.  This service fee will vary with the amount of time and work involved.
Moyen Prices
AKC Moyen
Solid colors, two color parti or phantom.
AKC limited registration
Males- $2200.00
Females- $2500.00
AKC full registration
Males- $2500.00
Females- $2800.00
Tri-Color Black/White/Tan Moyen
AKC full registration
Males – $3000.00
Females- $3500.00
Tri-Color Brown/White/Tan Moyen
AKC full registration
Males – $3000.00
Females – $3500.00
Tri-Colors will sell as full registration unless there is a pre-arranged contract for "Pet Only" and pet only will have to be spayed or neutered before they go to their new homes at the expense of the new owners. Price for pet only Tri-Colors will be pre-determined with written contract signed by both parties.
Toy Poodle Prices
NO LONGER BREED TOYS!
Paula Collins
Miniature Poodle Prices
AKC Miniature (13 to 15 lbs at 1 year) Solid, Phantom & Parti Colors
AKC limited registration
Males – $2200.00
Females – $2500.00
AKC full registration
Males – $2500.00
Females – $2800.00
Black/White/Tan Tri-Color  Miniature Poodle
AKC Tri-Color** limited registration
**No Limited Prices on Tri's
AKC Tri-Color full registration
Males – $3000.00
Females – $3500.00
**Black/White/Tan Tri-Color
***Brown/White/Tan Tri-Color
***See Poodle Colors page for example
Shipping Prices
Total shipping cost in United Airlines for small size kennel (up to 9 pounds) $375.00
Total shipping cost in United Airlines for medium size kennel (up to 20 pounds) $450.00
The prices listed above is for United Airlines. If you want or need for a puppy or grown Poodle to be shipped to you on any other airline, then the price will probably be slightly higher.
Shipping price includes all flight fees, cost of a new crate and the health certificate from my veterinarians, Dr. Brown and Dr. Costello,  to certify the health of your new puppy.
Health Guarantee
Please email for a copy of Tango Haus's health guarantee.
Contact US
Tango's Haus
Paula Collins
135 S E Weir Street
Camas, WA 98607