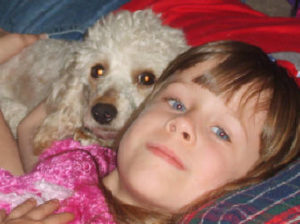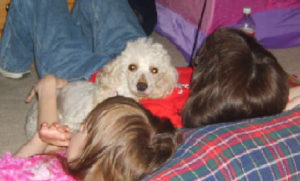 Tango's Haus Gracious Fannie (Gracie) with her new family!!
To: Paula Collins
Subject: Re: Gracie
Hello,
First I want to say that Gracie is warming up to her new life. We just wish she would eat more.
Thank you so much for all your support. Gracie taught Hershey to lay in one spot ! She likes to lay beside us and now Hershey has fiqured out that is what he needs to do as well .
Sent: Monday, April 14, 2008 11:33 AM
To: Paula Collins
Subject: Gracie
She is warming up with style around here. She is starting to play with Hershey and roam around the house. The other night I could not find her and I found her in Carissa's room – she had this look on her face like- IM WAITING – WHERES THE KID. I asked her if she was ready for bed and she looked at Carissa's bed. I went and got Rick to put Carissa in her bed. She had fell asleep on Daddy.
It was priceless. I think she is digging her new life. Carissa says she's a princess because she has this look like she is proud. She loves to give out kisses and man is she quick. We thought hershey was quick. Wow !