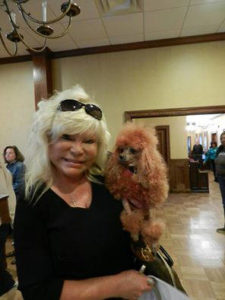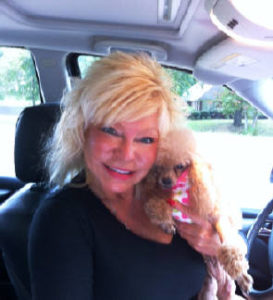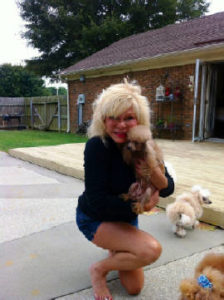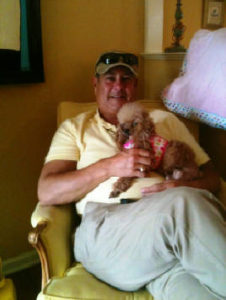 Sent: Thursday, October 03, 2013 11:30 AM
To: paula@tangoshaus.com
Subject: Karmen Sept 30th Photos
Hi Paula,
I know we talked twice on Monday and I'll call this weekend with an update but wanted to send you these photos that were taken almost as soon as I picked Karmen up on Monday. Her flight arrived at 1:15 and they had bused her to the cargo area I think before the passengers even got off of the plane. Of course she wasn't out of my arms but when I got her out of her kennel, I put a harness/jacket on her and leash just in case. So precious.
She's still a little confused about leaving her other life and coming to us but I know each day she gets a little more confident. Today is Thursday and the tail is finally at half-mast and higher at times now, she has picked up a toy a couple of times and put it down, she attempted to use the "stairs" to the couch when she saw the other girls using them, she wiggles her cute little self in with the rest of her new sisters in the various doggie beds that I have in the kitchen and living room like she's always been there… the little signs I love to watch for – she's still timid but I'm confident and full of love for her already.
And, you know what else? My little Diva that I thought might "shun" her… was the first to lay beside her on the floor… Flame, my other red gal and Karmen this morning played just a very quick little game of chase… and Bridgette has already cleaned her face. J
This is what makes all the bad stuff just melt away.
Oh, I've got questions that I want to ask you too so when we talk I may re-ask you some questions but I don't want to over-medicate her, I saw the rabies vaccination, has she had bordetella? I like the nasal kind, has she had the normal parvo-distemper 7n1 type shots or does your vet use those? Some vets don't after a certain age. I know you've had her on heartworm preventative, when was her last dose? Just normal stuff. I try to be very careful with the smaller dogs, especially when there's a breeder that can give me some background. Oh, and when I get her dental, is Karmen allergic (that you know of) to any kind of anesthesia? My other red gal is and I always have to look it up and request a certain kind. Anyway, we'll talk this weekend – I may even try to call this afternoon.
Thank you so very much for this sweet little gift.
Victoria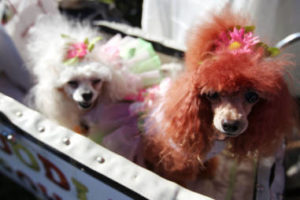 October 2015
Parade with the blessing of the animals ending at Grace Saint Lukes Church.  Victoria with Karmen on left and Karmen and Ginger in buggy on right.
Victoria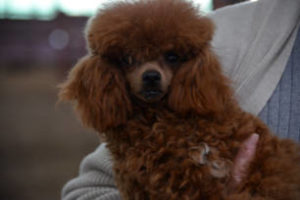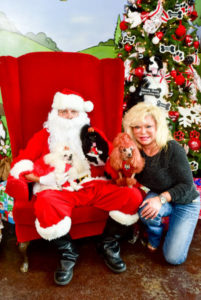 Karmen is the mother to my Scarlett!!  I miss Karmen very much but Victoria takes such very good care of her and loves her more than you can say!!!  Thank you, Victoria!!
Here is a picture of my Scarlett, Karmen's daughter…
December 14, 2015
Victoria with Santa and Karmen, Ginger and Satine!!
Merry Christmas
Victoria