Kim and her mother are very unique and wonderful people and I will never forget her and her love of animals.  She is a true sweetheart!!
To: Paula Collins
Subject: Re: Fannie and Flower
Hey Paula,
The webpage is sweet. My mom has been after me to send photos of the girls and let you know how they are doing. So here is the follow up message, Flower is a regular dog now playing with great vigor with the younger dogs, she even tried to get Fannie to join in. Flower gums the youngings, its very funny to watch.
Christmas morning I took everyone out for a walk, thank goodness for the dual couplers I bought, it looked like I had a mini sled team. Fannie has a new harness, the step in variety, the other style scared her and she did as you warned me slip out of the collar, I digress, because the point is Fannie slowly losing weight she needed a new one, but happily she can easily hop into the car and run up the stairs. I am pleased to say I am winning her over, her tail goes a mile a minute when I talk to her.
Kim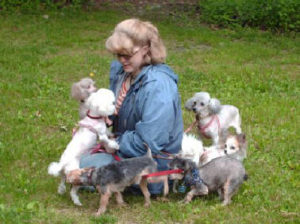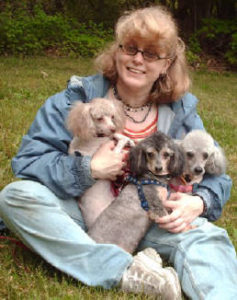 Sent: Sunday, May 18, 2008 2:34 PM
To: Paula Collins
Subject: Fannie and Flower
Hi Paula,
Finally I got a picture of the girls and I together. I also included some new photos of the girls out with me walking along with Fannie's new look she has trimmed down nicely on her diet.
Kim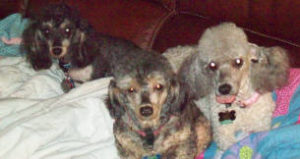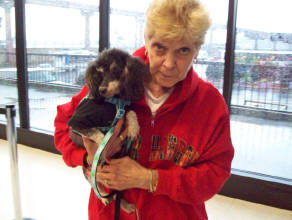 Sent: Monday, September 15, 2008 8:12 AM
To: Paula Collins
Subject: Cappi
Hey Paula,
Hope all is well after the wicked weather in Texas. But here as promised are the photos of all the girls plus Cappi and Dottie at the airport
Kim
Sent: Sunday, October 05, 2008 7:38 PM
To: Paula Collins
Subject: The girls mom's and mine
Hey Paula,
Thought I'd let you know how the girls are doing. Cappi is doing well, she is adjusting nicely to the household housebreaking went well. The major change is in Fannie and Flower they are over the moon that Cappi is here, Flower is very wiggly and happy, a regular little clown just elated that her sister is here, and Fannie is a regular dog now, happy and wiggly. The trio pal around together and engage is regular wrestling matches. Fannie even play growls when she wrestles.
Fannie now folllows me around the house, no fear just happy to watch me.
I'll keep you updated.
Kim and Dottie
Flower, Fannie, Cappi, Baby, Mollie and Gracie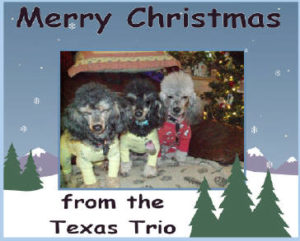 Sent: Saturday, December 26, 2009 3:16 PM
To: Paula Collins
Subject: Merry Christmas from Fannir, Flower and Cappi
Merry Christmas Paula,
Hope all is well with you and just a photo of the girls to let you know that they are well
Tango's Haus Fannie
Tango's Haus Fantom Flower
Tango's Haus Fantom Cappuccino
Mom and I adore the girls and they never fail to make us laugh on a daily basis with their antics
Kim Linseth
all the way in chilly NY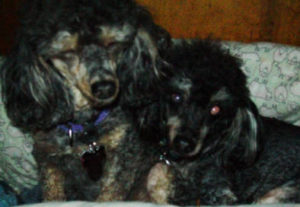 Hey Paula,
Mom and I thought we'd let you know how the girls are, actually they are marvelous and silly, the pair are happy and healthy at age 11.
We want to thank you again for allowing me to have these wonderful girls.
The past 5 years with Flower and 3 1/2 years with Cappi have been a delight, Mom and I enjoy their company wholeheartedly.
Kim and Dottie Linseth