Toy Puppy at home in Bahrain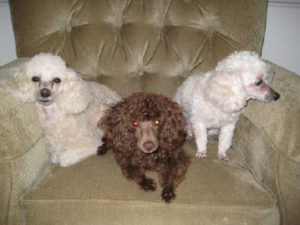 Sent: Monday, April 25, 2011 5:20 AM
To: Paula Collins
Subject: Lulu, the refugee poodle
Hi Paula,
I hope this message finds you and family well back in Texas and you have enjoyed the Easter weekend!
I wanted to drop you a line to let you know that our darling Lulu is doing well and we absolutely could not be happier to have her in our family! She came with us to Bahrain in January as planned and has really adjusted quite well to life in the desert. Unfortunately, as you may have seen in the news in recent weeks and months, our corner of the world has been having some rather serious socio-economic and political unrest. Bahrain, has been having some popular uprisings and political demonstrations which started in mid-February and are ongoing, albeit under a pretty strick military crackdown.
In light of the developments and security situation in Bahrain, my wife Sirena, and Lulu have actually just returned to Texas this week. They will likely stay in Austin through the summer and return to Bahrain once things have calmed down.
Anyway, I just wanted to touch base and give you a little update on our high-flying, world traveling puppy! I've attached a photo of her taken just yesterday. Lulu is the one in the middle. On the left side, you may remember my parents' mini, Latte, which they got from Tango's Haus a few years back along with a brown toy boy named Cocoa who is not in the picture. The other toy cream to the right is my sister's baby. All the puppies get along very well! My grandmother even visits from time to time with her chiuahua. It's quite a sight!
All the best,
Christopher